Posted by Guy Sadan on 31st Oct 2014

Hi everyone,
Noah H Kersey finally made it to Santiago and broadcasts almost live from there.
Here in Spanish Door, we have gathered 10% of all Camino item sales and donated it to his Diabetes investigation campaign. we will miss having you Noah as an ambassador on the road. good luck for the rest of your stay and for the campaign later back home.
for further information, you can visit Noah's Facebook page:
http://www.facebook.com/TrekCaminoForDiabetesCure
This last week we have introduced several new products, our newly arrival T shirts and ceramic items just to name a couple. more items will be added over the weekend so make sure you pop in to stay updated...!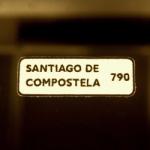 We have announced a draw for the chance to win our new Camino patch.
For your chance to win, just LIKE our Facebook page, and share the draw's post on your wall !
The draw will take place on Dec. 24th and the winner announced the next day on Spanish Door on Facebook.
Good luck.
Wishing us all a great weekend,
Spanish Door